Een van de cryptomunten die de afgelopen weken koersrecord na koersrecord verbrak is Ethereum (ETH). Toch is er een aantal aspecten op basis waarvan beleggers enige voorzichtigheid zouden moeten betrachten. Wij noemen drie belangrijke punten ter overweging.

Veel investeerders zijn enthousiast als zij over cryptomunt Ethereum (ETH) praten. Dat is logisch want de munt zorgt voor koersrecord na koersrecord en met Ethereum 2.0 slaat men een nieuw hoofdstuk in. Toch is er ook kritiek op de één na grootste cryptomunt. De aangedragen punten zijn belangrijk om als investeerder in het achterhoofd te houden. Wij benoemen 3 aspecten die de groei van (de prijs van) Ethereum kunnen remmen.
Hoeveel Ethereum is er in omloop?
Bij de Bitcoin (BTC) (en veel andere cryptomunten) is de schaarste een van de prijs bepalende factoren. Waar iedere investeerder weet dat er maximaal 21 miljoen BTC in omloop komt is er bij Ethereum (ETH) niemand die de totale marktkapitalisatie van Ethereum met zekerheid kan noemen.
Dit komt omdat er naast het aantal ETH uit het Genesis block en de mining rewards sprake is van zogeheten uncle rewards. Deze beloningen zijn bedoeld om decentralisatie te stimuleren en worden uitgekeerd voor blokken die niet op de blockchain komen. Deze vertraagde beloning kan tot 6 blokken na mining van een block komen. Om zaken nog moeilijker te maken bestaat er ook nog een 'neef beloning'. Deze beloningen kunnen tot 87% van de blokbeloning uitmaken.
Als we daarbij bedenken dat er ook Ethereum kan verdwijnen (bijvoorbeeld als een smart contract ophoud en de fondsen naar het contract zelf gezonden worden) zien we dat de hoeveelheid Ether in omloop niet exact vast te stellen is. Uitgedaagd door de Bitcoin-community probeerde Ethereum-ontwikkelaars dit vorig jaar wel te doen, maar zij slaagden daar niet in. Veel insiders zoals Anthony Pommpliano hebben daarom bezwaar tegen Ethereum en noemen het 'no good money'.
De transactie fee van Ethereum is veel te hoog
Veel DeFi-projecten verlopen over de blockchain van Ethereum. Doordat de schaalbaarheid nu nog een probleem is zijn de transactiefees hoog. Soms kunnen dezen oplopen tot meer dan $ 20 per transactie. Hierdoor kunnen veel (met name kleinere) DeFi producten zich niet goed ontwikkelen. Sommige activiteiten worden zelfs gestaakt. Zo zorgde de abnormaal hoge Gas price er vorige week nog voor dat DeFi-project Unite.Community haar activiteiten staakte.
Ook vorig jaar september liep de gaz price erg hoog op. De prijsstijging was zo groot dat UniLogin haar deuren moest sluiten omdat men soms $ 130,- per gebruiker moest betalen om deze aangesloten te krijgen. Uiteraard spinnen de miners wel goed garen bij deze ontwikkelingen. Zo verdiende men in januari 2021 alleen aan transactievergoedingen al $ 325,35 miljoen, waarbij de blockvergoeding en eventuele 'uncle rewards' nog opgeteld moeten worden.
De schaalbaarheid van Ethereum is problematisch
De hoge transactiefees komen voort uit het feit dat er veel meer transacties worden aangeboden dan dat de ETH-blockchain kan verwerken. Hierdoor betalen gebruikers een extra fee om hun transacties sneller verwerkt te krijgen. Om je een indruk te geven zie je hier onder het aantal transacties op de Bitcoin Blockchain en Ethereum Blockchain.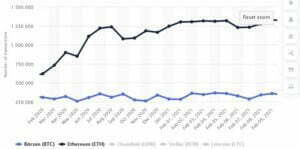 Ook per seconde zien we het grote verschil in transacties op de BTC Blockchain en de ETH Blockchain.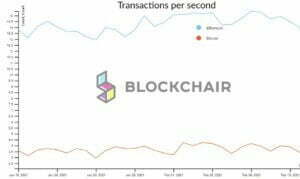 Veel investeerders dachten dat de komst van Ethereum 2.0 het probleem van schaalbaarheid op zou lossen. Dit lijkt echter vooralsnog niet het geval. Daarmee worden mogelijkheden tot massa-adoptie en koerssprongen op lange termijn verder beperkt.
Uiteraard blijft Ethereum een interessante investering. De cryptomunt is direct te koop op de Nederlandse Bitvavo exchange of, als u in Engelse Ponden of Amerikaanse dollars wilt handelen, op de Changelly exchange.
(De medewerkers van) onze site geven geen financieel advies. De getoonde statistieken en informatie zijn uitsluitend bedoeld als mogelijke bron voor eigen onderzoek naar (investeren in) crypto en / of voor educatieve / amusementsdoeleinden. Ondanks onze inspanningen om informatie op een juiste en tijdige manier te presenteren, aanvaarden wij geen enkele verantwoordelijkheid voor eventuele tekortkomingen in de verstrekte gegevens en / of informatie. Houdt er bovendien rekening mee dat deze site affiliate links gebruikt. Dit betekent dat we een bijdrage kunnen verdienen in de kosten van het gebruik van deze site en het verstrekken van gratis informatie als u besluit op (een van) de geplaatste links te klikken.